April 20, 2018 10:00AM

to

April 22, 2018 4:00PM
Funded By:
Baxter, ITW, NorthShore University HealthSystem & Underwriters' Laboratory
With three days of science activities, the Unearth Science festival celebrates science and nature in ways that will encourage you to see, touch, hear, and explore.
Participate in drop-in programs, timed demonstrations, free programs, and special events Saturday and Sunday.
Join Garden scientists and partner organizations to:
Dig Deeper
Go in-depth with Garden staff and scientists and explore topics from forensics to the fossil record. Discover the birds and the bees (and bats and butterflies as pollinators). Contribute to a crowd-sourced poem about science. Find out how to grow plants on Mars. Measure a plant's breath. Help our scientists tag a bee. Use soil science forensics to solve a crime.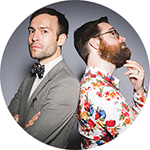 Dr. Illingworth & Mr. Simpson facilitate a poetry slam
Use Your Words
Experience science through spoken-word performance with Experimental Words on Friday, April 20, at 8 p.m. (Doors open at 7 p.m.) Sign up for Botanical Balladry during the weekend and see your work performed on Sunday, April 22, at 3 p.m. 
Get Outside
Explore spring beauty and the universe with experts from the Garden and Adler Planetarium. Gather in the Nature Play Garden to look through a telescope at the moon and evening sky—and possibly the bright planet, Venus.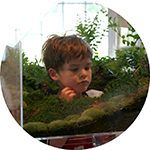 A bug's-eye view in a biosphere
Get into the Environment
Peek into hanging terrariums April 20–22 in Burnstein Hall and get an ant's-eye view of nature with artist Vaughn Bell's biospheres in Local Homes: Nature in Your Backyard. Discuss the works with the artist and scientist Pati Vitt on Saturday, April 21.